At this year's much-anticipated WWDC23 conference, Apple officially "spoiled" the revamped version of iOS 17.
With the fall conference coming to an end, the official version of iOS 17 was officially launched today.
1.Call poster, most personalized caller ID
The phone itself only transmits sound information, visual elements are relatively lacking, iOS 17 adds caller ID posters, you can create a call poster containing nicknames, avatars, dynamic emoticons and other elements.
When you call, the personalized poster takes on a new look, which is both an opportunity for you to express your personality and a way for both parties to enhance their visual impression. When you set up a call poster, the other person's address book will also update your latest image.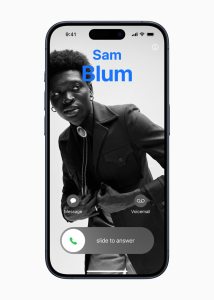 When you are driving or in a meeting and can't answer the call, the caller can communicate with you directly through voice mail, iOS 17 will automatically transcribe this message, you can choose whether to answer while reading the text, no longer need to wait for the end of the message to know the other party's intention.
iOS 17 doesn't stop at calling in terms of calls, the recent expansion of the call list to more records, call interface re-optimization, unknown calls directly into the message, dual-SIM users use independent ringtones, etc., all of which make the iPhone call experience more personalized.
2.Standby, the iPhone becomes a smart screen
When your iPhone charges horizontally, the Standby interface automatically activates, transforming your lock screen into a smart screen with useful information, perfect for a table, nightstand, or kitchen counter.
Standby supports 5 clock styles, so you can set the clock that best suits your room, or automatically play your favorite photo collection or specific album and let your iPhone become your digital photo frame.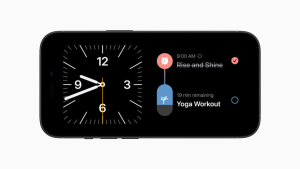 MagSafe Standby also remembers your preferred view to personalize the experience for each MagSafe charging location. You can enjoy family photos in the living room or easily check the clock by your bed without having to reset it.
In addition to decoration, you can also add small components such as calendars and smart home controls to get all kinds of practical information, so that the iPhone screen is no longer a cold glass, but a smart life assistant and art installation.
With new features in iOS 17, you can also easily manage smart home devices, the new HomeKit architecture makes management more intuitive, devices in different rooms are now automatically categorized, and adding new devices is easier than ever.
In addition, HomeKit now allows remote management of devices that can be controlled even when away from home, which is especially convenient for users who are on the go.
3.Check in, one-click report safety
iMessage has been updated with many new features, including speech-to-text, direct location, swipe right to reply to messages, etc., the most noteworthy feature is – Check in.
If you're taking a taxi late at night and worried about your travel safety, try the "Safe Arrival" feature, which automatically sends an iMessage message to a contact at the end of navigation to remind them that you have arrived at your destination safely.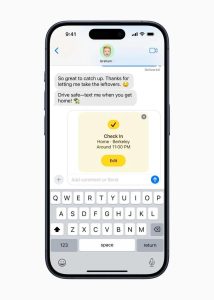 If you don't arrive on time, or if your direction changes halfway through, and your iPhone doesn't wait for your response, you'll notify your contacts and share your current location, cell signal, battery status, and more.
4.Stickers, vivid expressions, unlimited creativity
In this era of memes, stickers are no longer confined to words, but have become a uniquely expressive medium.
iOS 17's dynamic sticker feature uses artificial intelligence technology to automatically and accurately identify faces or objects in photos and generate animated stickers. Dynamic stickers also support adding special effects such as glow and doodling, so you can freely edit the stickers creatively.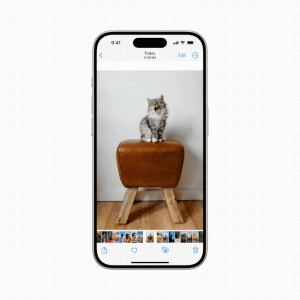 iOS 17 has also greatly enriched the variety of emoji stickers, and unlike before, we can not only use the rich stickers provided by Apple, but also more easily search, manage and use sticker packs from third parties.
5.AirDrop, post it, share it
AirDrop, as the fastest way to share files between iOS devices, also ushered in the expansion NameDrop in iOS 17.
When you want to exchange contact information with new friends, you can drop phone numbers, email addresses, and contact posters with a sticker on your phone, and of course, Apple Watch can also be used.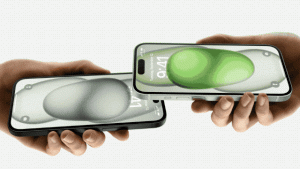 And when you're out of range, AirDrop transfers can also continue over the internet. Even when you're not with each other, you and your friends can continue to share files and photos.
6.Needless to say, "Siri" will do
iOS 17's Siri activation is more natural, where you used to say "Hey Siri" to activate the assistant, but now you just need to say "Siri."
Once you activate Siri, you can issue multiple commands in a row without having to reactivate. If you want to override a previous command, simply say "Siri" before issuing a new command, reducing many unnecessary actions.
Siri has been designed from the ground up with a more compact CarPlay interface that makes it easy to refer to information on the screen while seamlessly completing other tasks with your voice.
In addition, with the introduction of the SharePlay feature, even if the rear seat passengers in the car do not subscribe to Apple Music, they can control Apple Music in CarPlay, and everyone has the opportunity to play their favorite music.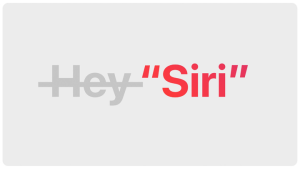 Journal, your diary, belongs only to you
iOS 17 also introduces a new app, Journal, that lets you record everyday moments and special events in your life.
Your iPhone can generate personalized suggestions for moments to remember and describe based on photos, location, music, sports, and more, each with a writing prompt such as "What's the story behind these experiences?" Wait.
You can save suggestions to a diary, scroll through all entries chronologically, and filter out items that you've marked for later.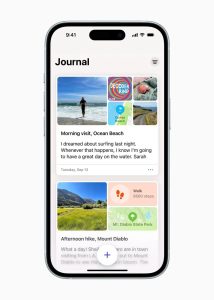 Notably, Journal has the ability to lock down apps, use on-device processing, and end-to-end encryption. Apple promises that no one but yourself will be able to access your diary, and your diary time will belong only to you.
7.Intelligence is another core advantage of iOS, and the intelligence of iOS 17 will go deeper to assist users to live and work.
Whether it's messy handwriting or different styles of typography, as long as it appears in the camera frame, it can be recognized and extracted by Live Text. iOS 17 adds the recognition of vertical text, so that the text in more scenarios can be used by you.
iOS 17 also embeds the real-time translation function directly into the camera, if you are a student, when you scratch your head and scratch your head when looking at the reading comprehension of the English in front of you, you only need to point the camera at the English, and you can directly view the Chinese translation results on the screen, which is quite practical.
Today, Visual Look UP can also be used in paused video frames to extract single or multiple themes from the backgrounds of photos and videos, easily identifying foods, storefronts, signs, and symbols, and turning them into your "encyclopedia."
Many owners treat their pet as a family member and take plenty of photos with it. iOS 17 uses machine learning technology to automatically identify users' pets and appear in the "People" album like friends or family, full of strong humanistic care.
Other details, such as Safari now supports autofill of one-time verification codes and proximity sign-in between multiple devices. The Health app also adds a new mental health feature to provide users with more comprehensive attention.
This update also introduces the auto-correct Transformer language model, making text input more fluid and accurate for users. These features provide users with a more convenient and precise experience, making iOS 17 also have some merit in terms of details.
iOS 17 requires running the A12 Bionic and subsequent chip models, which means that the iPhone 8, iPhone 8 Plus and iPhone X have no chance of getting upgrades.